Since starting this  project, I've noticed more and more projects to map LGBTQ spaces – even the National Parks Service is getting in on the game. Truth be told, I was even planning to make a map a big part of this project, which may still happen, but it's also been fascinating to watch as so many others have taken up a similar task.
Here are a few of the LGBTQ mapping projects that I've found or been told about, with a particular emphasis on those that highlight queer women's spaces:
Most recently a friend living up in Maine directed me to sociologist Greggor Mattson's map of lesbian bars that have closed between 2006 and 2016, which you can view in the embed above and also on his website here.
Though I only came to know about it soon after President Obama declared the Stonewall Inn a National Monument during New York City Pride in the summer of 2016, it seems this map of LGBTQ heritage sites was posted back in May 2015. You can learn more about their map here.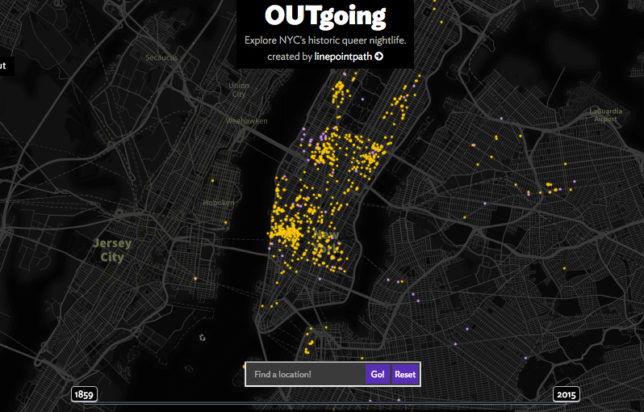 The OUTgoing project above was created by Jeff Ferzoco, who has done some work in data visualization. It's an attempt to map LGBTQ bars in New York City from 1859 to 2015. It definitely leans a bit heavily on spaces for men, but, then again, you can't blame Jeff for that, given that the vast majority of LGBTQ spaces are created by and for other queer men.
What's tricky about lumping all LGBTQ spaces together is that it can give a picture of a fairly robust number at a given time in history, which masks the sharp disparities in the numbers between bars generally intended for cis gay men, those intended for cis lesbians, and those that welcome or are intended for trans folks of different genders.
Above is a slide deck from a talk given by All We've Got National Advisory Board Member Jen Jack Gieseking, PhD. Read more about the talk and Jack's work to challenge the way we think about the mapping of and narratives around queer space on Jack's website.
In the above map, some members of the LesbianActually forum on Reddit have placed themselves on a world map. According to the forum's post about the map, some internet trolls went after the map not long after it was posted and so now, one of the forum moderators is approving each pin that someone places on the map. Comments on the forum would indicate that this was done partly out of an effort for those who physically live near to one another to be able to connect if they wanted to.
The above maps lays out the locations of the Daughters of Bilitis' New York chapters between 1958-1971. It was put together by doctoral candidate and Lesbian Herstory Archives Coordinator Rachel Corbman. And in this blog entry titled "Problems with Putting Lesbian Organizations on the Map" she talks about the reality of queer women's spaces being highly transient primarily for reasons of affordability and access.
A couple other examples (will add more as I find out about them):