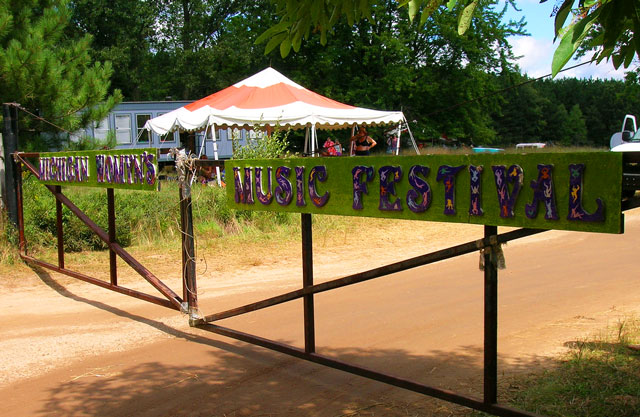 The conflict around the Michigan Womyn's Music Festival's exclusion of trans* people has been ongoing since the 1991 Festival when Nancy Burkholder was expelled from the land and the event because she was transsexual. (Read Burkholder's description of what transpired that night.)
The following year, the producers published a statement in the program articulating that the Festival was intended for "womyn born womyn." At that time the Festival was being produced by Lisa Vogel and Barbara "Boo" Price, since 1995 Lisa Vogel has been the sole producer. For the Festival producers, the meaning of "womyn born womyn" is those who were assigned female at birth, who were raised as female, and who identify as female today. This policy, by and large, continues today, despite numerous and ongoing efforts by a variety of people both inside and outside of the festival to change it, and despite the fact that many people who don't fit neatly into that category have always attended the festival.
I was struck by a couple of things as I've been researching Michigan, and am left with some questions that will be part of my ongoing research:
According to a survey of festival goers taken in 1992 the policy announced that year ran counter to the desire of many festival goers.
One person, now the Festival's sole producer, Lisa Vogel, appears to be making the decision for the entire festival community. (I am still searching for more information to better understand how the decision is being made, but each of the histories and testimonials I have read up to this point all reference the producer(s) as being responsible for the policy.)
The festival was started in 1976 by a small collective of women with a mix of feminist and lesbian feminist intentions (among other intentions), and each year it is literally constructed and operated by hundreds of volunteers who give hundreds of hours of their time and labor to the event. What led to the current power structure that appears to give one person authority over the community, at least when it comes to this particular decision? How does that decision jibe with the larger festival community—do they feel they had a role in making that decision? Is everyone cognizant of the power structures and does it matter to them in a context that is frequently described as a collective experience of women building community together?
Which is to say, as much as I'm interested in "womyn born womyn" policy, in some ways I'm more interested in the organizational structure that arrived at it and maintains it.
BEYOND MICHIGAN
Another thing that became immediately clear as I've started to research this topic is that while Michigan garners an enormous amount of time and attention, the reality is that most of the other music festivals that exist today that are intended to support lesbians, queer women, and feminists, including two that were inspirations for Michigan, do not share Michigan's policy of excluding trans*, intersex, and gender-nonconforming people.
Here is a quick listing of some of the festivals that remain in operation today (as of March 30, 2014):
Midwest Wimmin's Festival
Founded: 1974
Location: Lake of the Ozarks, Missouri
Organizational Structure: Unknown, but founded by Judith Jerome
Participation Policy (from website): "Wimmin and girl children welcome – boys under four years – childcare is not provided."
National Women's Music Festival
Founded: 1974
Location: Started in Champaign–Urbana, Illinois, now help in Madison, Wisconsin
Organizational Structure: Board of Directors
Participation Policy (from website): "Attendees come from all genders and cultures, cutting across ethnic, racial, sexual, age, and ability boundaries. Likewise, Festival programming reflects many points of view; a diversity of ideas and topics are explored and discussed in a safe environment. Festival is an environment in which philosophies and politics are open for discussion, not mandated or judged."
SisterSpace
Founded: 1977
Location: Started in Poconos Mountains of Pennsylvania, now takes place in Darlington, Maryland
Organizational Structure: Board of Directors
Participation Policy (from website): "The Weekend draws an incredibly diverse crowd in terms of age, ethnicity, socioeconomic status, and identity. We encourage any woman interested in attending the SisterSpace weekend to ask any questions about the organization and the weekend, and gather as much information as possible so that each woman can make the best decision for herself and the space we've created. It's the hope of SisterSpace that every woman who attends feels comfortable in an extraordinarily freeing, encouraging and safe environment. Each woman who enters the space is asked to do so with an enormous amount of respect, understanding and appreciation. We trust that each woman is capable of evaluating her own potential presence at SisterSpace with regard to these guidelines."
Ohio Lesbian Festival
Founded: 1988
Location: Pataskala, Ohio
Organizational Structure: Volunteer staff
Participation Policy (from website): "One of the only remaining spaces dedicated to creating a festival for all womyn-lesbian, straight, bi, trans, etc; regardless of their age, socio-economic status, race, gender identity, religion or sexual orientation."
Virginia Women's Music Festival
Founded: 1991
Location: Louisa, Virginia
Organizational Structure: Campground (originally named INTOUCH, now CampOut) and festival founded by Janet Grubbs, now run by Billie Hall, land owned by "three elders"
Participation Policy:
(from website): "CampOut is a members only, private campground for women."
(quote from May 21, 2013 article about CampOut, where the Festival is held, posted on Gay Richmond Virginia/GAYRVA.com): ""We allow trans [sic] if they live with a woman, and they have drivers license that shows that they are a woman. And while they are here on the property, if they conduct themselves like a woman in their dress. We don't expect you to show that you're not a woman by your body parts.""
Iowa Women's Music Festival
Founded: 1993
Location: Iowa City, Iowa
Organizational Structure: Founded by Laurie Haag, now run by a small non-profit called Prairie Voices
Participation Policy (from website): "All people and well-behaved pets are invited to enjoy two action-packed days at the Johnson County Fair Grounds." (from FAQ page) "The entire community is invited. The IWMF is open to the public and everyone is encouraged to celebrate women in music and the arts."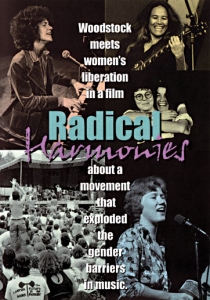 RADICAL HARMONIES DOCUMENTARY
To better understand some of the context that gave rise to some of these women's music festivals and the musicians that have been part of them, you might consider watching Dee Mosbacher's 2002 documentary film Radical Harmonies. It's available for streaming on YouTube (for a fee of $1.99).
The website for the film also has a useful bibliography.
SELECTED REFERENCES
USE OF "TRANS*" AND "WOMEN"
Please refer to my notes on terminology.